5 Ways You Can Volunteer with 4:13 Strong this Year
We all say it every year…new year, new me. Whether it's cutting back on our daily caffeine intake, trying out a new hobby, or running in a 10K, we all make resolutions to better ourselves. But, what if this year — instead of just focusing on what we can change about ourselves — we also think about how we can help someone else?
This year at 4:13 Strong, we want to give you the opportunity to make a difference in the lives of the men in our program through new volunteer opportunities. By giving your time, energy and talents, you can encourage the 4:13 Strong men as they work to put their past behind them and move towards becoming the man that God intended for them to be.
These volunteer opportunities are designed to provide a place for everyone to give back and stand strong with our guys. Check the list below and let us know how you want to make a life-changing difference, today.
Volunteer Opportunities at 4:13 Strong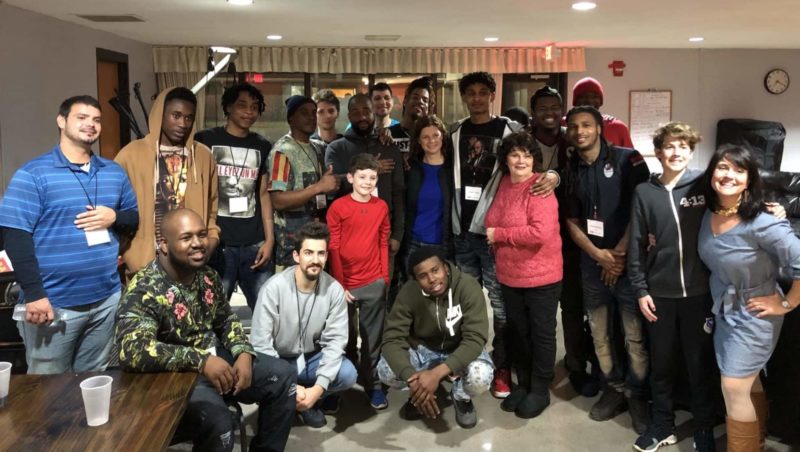 Wednesday Night Dinners
Wednesday nights are the most anticipated night of the week on the 4:13 Strong campus. Volunteers bring dinner and eat with the 4:13 Strong guys. It is a great time of fellowship and gives you an opportunity to form lasting friendships with our 4:13 Strong guys. Dinner doesn't have to be anything complicated, you can prepare a homemade meal in your kitchen or order takeout for 15 men plus however many are in your group. It's up to you. The guys just love an opportunity to get to know you over a good meal!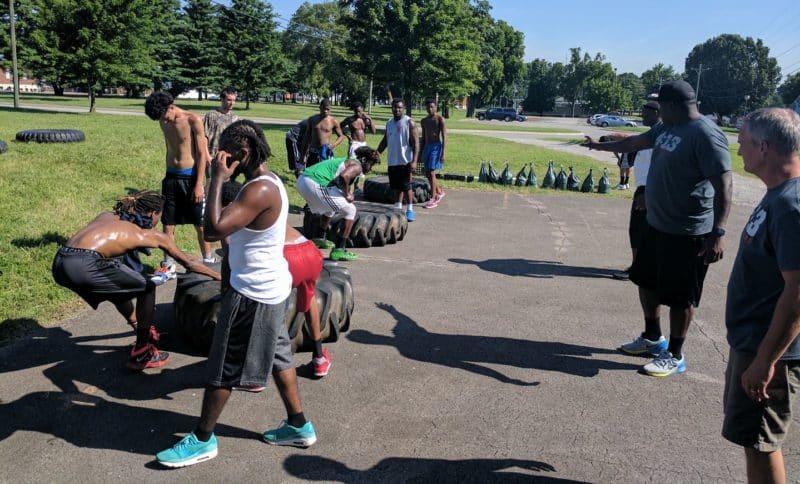 Thursday F3 Workout
All men are invited to come out and join us for an early morning workout. F3 Nashville is a group that sets up free workouts for men built around fitness, fellowship and faith. It converges on the 4:13 Strong campus each Thursday morning, rain or shine, to lead the 4:13 Strong guys in a fun but challenging workout. This is a great way to encourage the 4:13 Strong men, improve your fitness level and build some new male friendships. Stick around for coffee and fellowship following the workout.
Details: Every Thursday, 1/17 – 2/28, 5:30am – 6:15am on the 4:13 Strong campus 1276 Foster Avenue, Nashville 37210  | No sign up required | Men only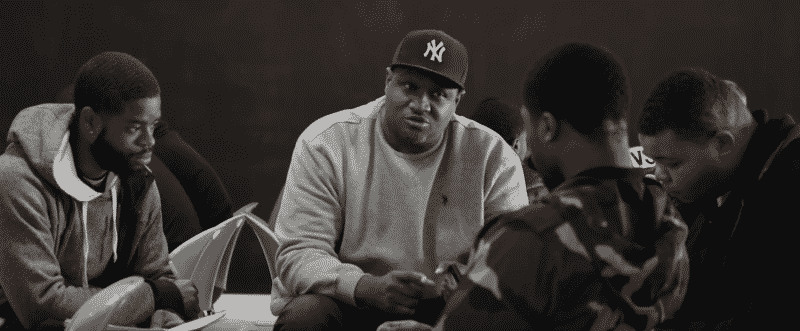 Friday morning Bible Study | Authentic Manhood
Each Friday morning all men are invited to gather at Flavor Catering in downtown Nashville to study what the Bible says about being a "real man." We follow a curriculum based on the Men's Fraternity study. This is a great opportunity to spend some time with other men encouraging each other as we all work to become the men that God has called us to be. Coffee and breakfast provided!
Details: Every Friday, 1/25 – 2/22, 7:15am – 8:45am, 618 Ewing Ave, Nashville | No sign up required | Men Only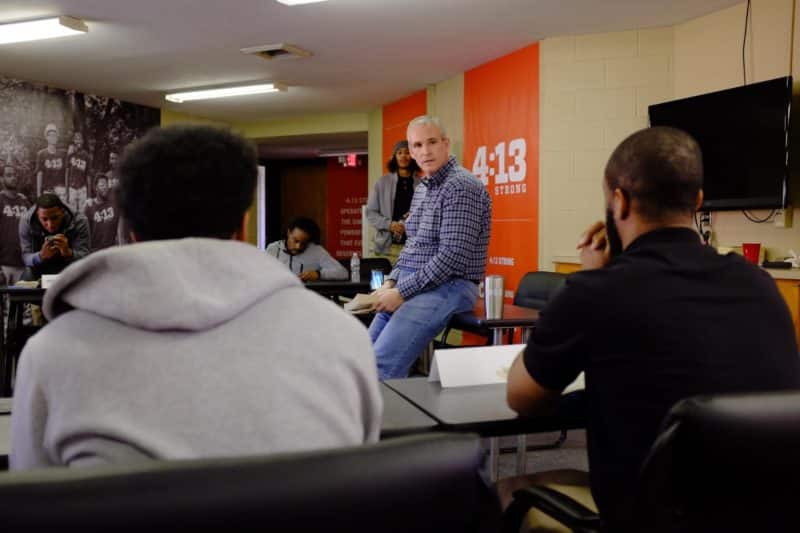 Friday Lunch & Learn
On Friday's we invite men from the community to join us for lunch and share their story. It doesn't matter who you are or what you do, you have a story that is worth sharing. The 4:13 Strong guys are interested in hearing about how other men make money, what other men struggle with, and what they do for fun. We provide the lunch so all you need to do is show up and talk about yourself!

Saturday Adventures
If you enjoy the outdoors, think about joining us for one of our Adventure Saturdays. We take each 4:13 Strong class out on three different adventures to experience the beauty of God's incredible creation, learn the value of working as a team, and get out of their comfort zones. These adventures allow our guys to surpass their own expectations of what they think they can do and have fun in the process.
Our different adventures include hiking, canoeing, rafting, fishing and extreme caving. If you are interested, contact [email protected] for details on the next planned adventure.
It's easy to get started as a volunteer with 4:13 Strong!
On the first Wednesday of the month from 5-6pm we will host a Volunteer Open House where you can learn more about who we are and where you can plug in at 4:13 Strong. If you have questions or would like to meet us before signing up to volunteer, please come out.
Make this year your best year by volunteering to help your community and support our guys through meaningful relationships and life-changing transformations.
To learn more about our volunteer opportunities click here.